Continuing Ed Tracker's Main Menu provides easy access to all functions of the software.
NOTE: Not all features shown are available in the LITE version of the software.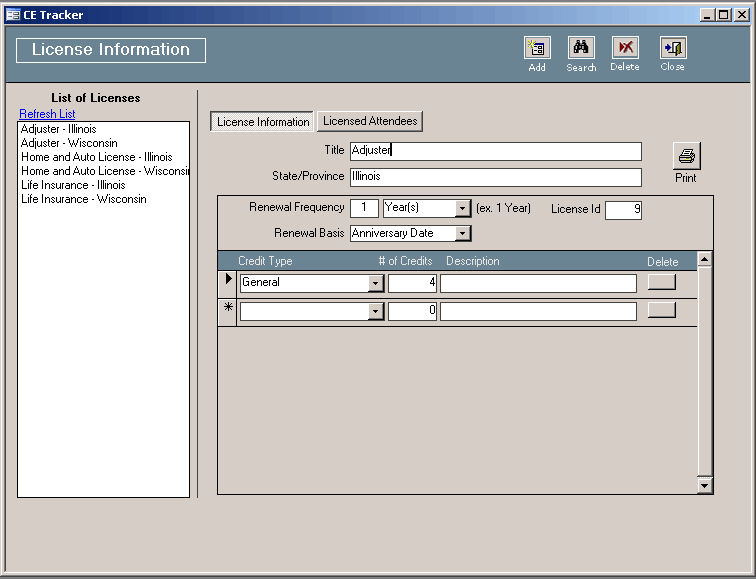 Slide 2 of 26
Use the License module to enter basic information about the various licenses held by your employees including the continuing education requirements for each license. Click a license on the left to view details about each license.
Slide 3 of 26
The Licensed Attendees tab gives you a quick view of which employees hold a particular license. Sort the list by Active Licenses, License due to expire, Expired Licenses or view all.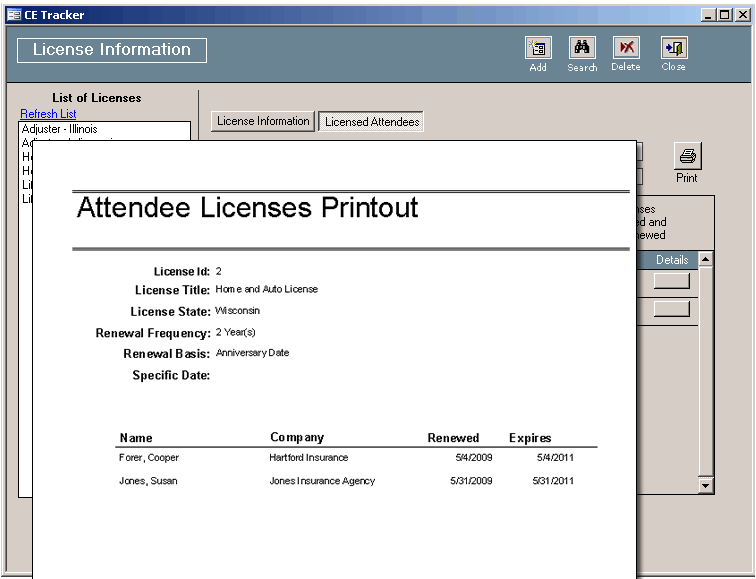 Slide 4 of 26
With one click, print a report based on the criteria you entered on the Licensed Attendees screen.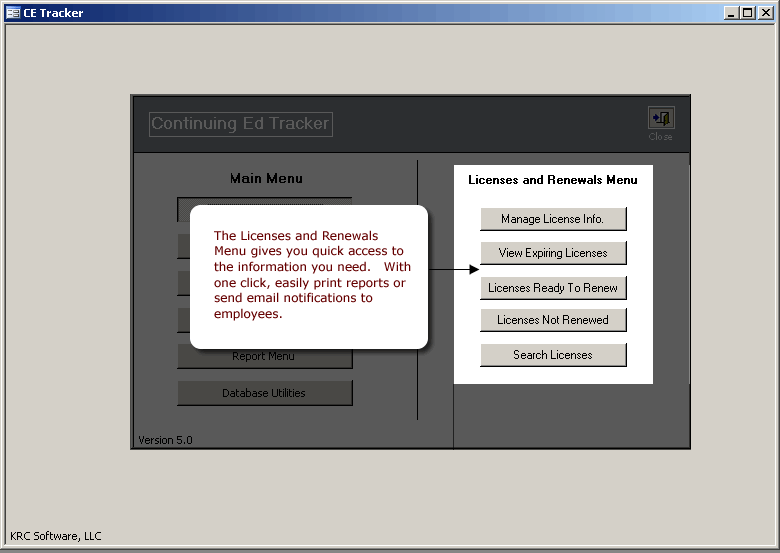 Slide 5 of 26
License and Renewals Menu gives you quick access to the information you need. With one click, easily print reports or send email notifications to employees.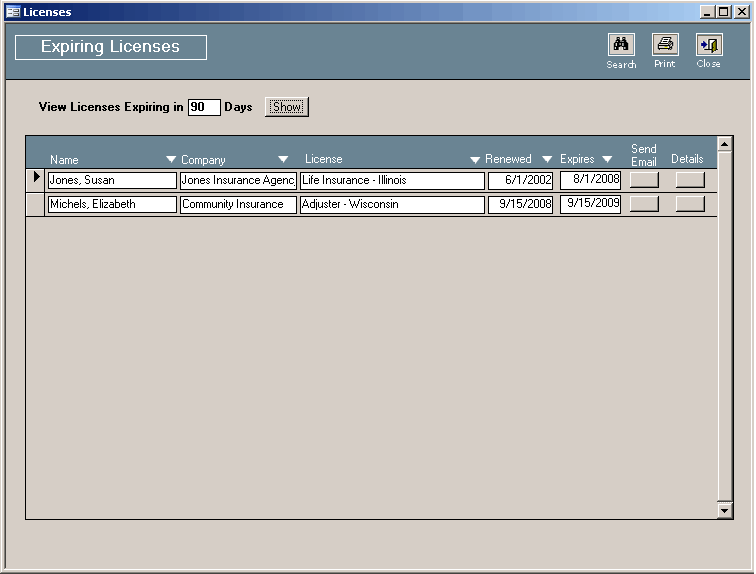 Slide 6 of 26
From the View Expiring Licenses, Licenses Ready To Renew or Licenses Not Renewed screens, you can print a report, view details or send an email notification to the attendee.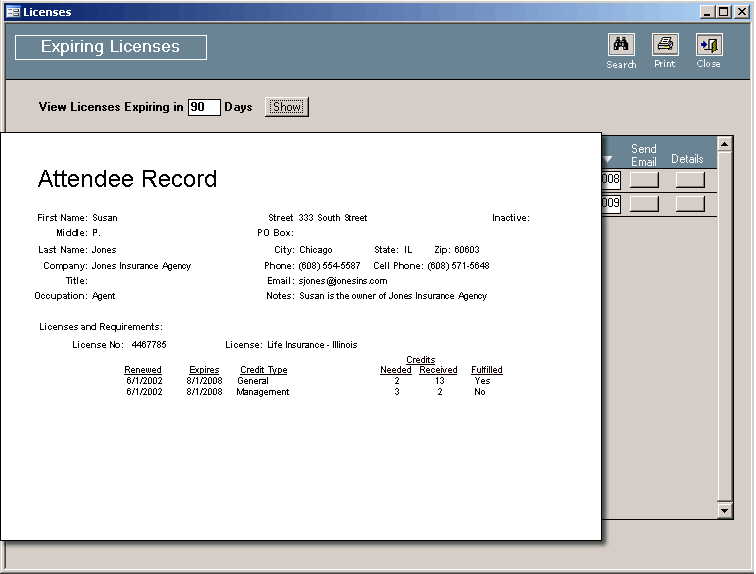 Slide 7 of 26
Email notifications sent will include an attachment showing credits received and credits still needed to renew the license selected.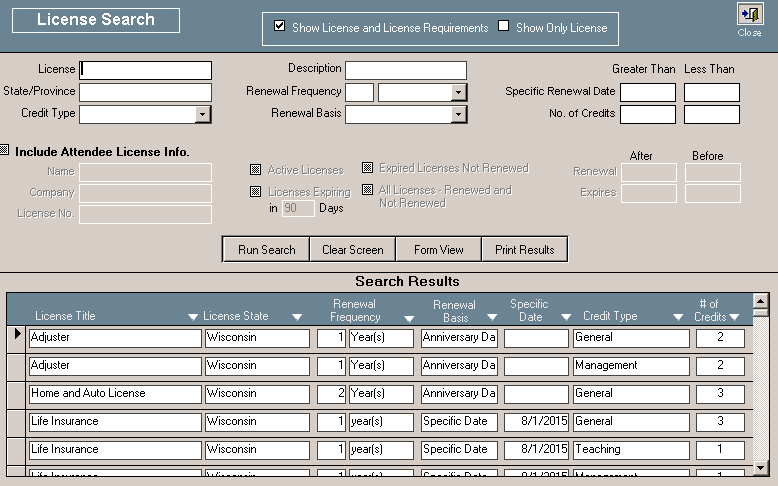 Slide 8 of 26
The easy to use search screen gives you great flexibility when formulating your search queries. After running your search, you can sort and print your search results, or select Form View to view the details of a particular record in your search results box.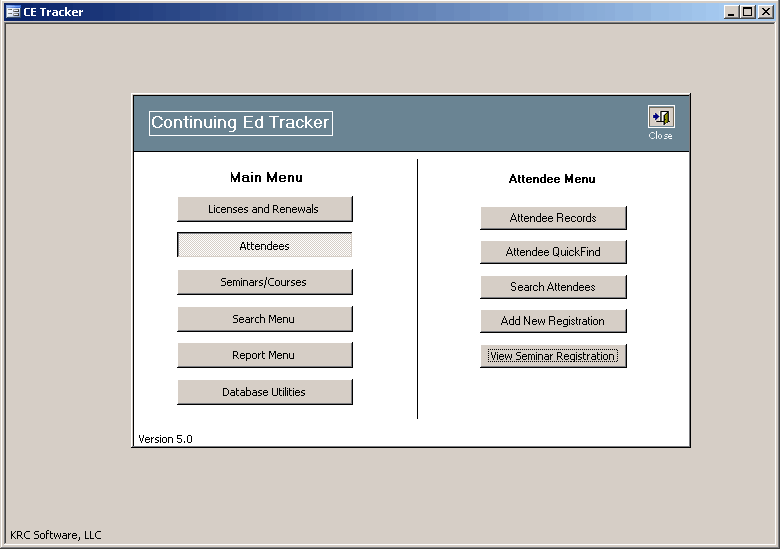 Slide 9 of 26
The Attendees Menu gives you quick and easy access to update an attendee record, view and update attendee licenses, and register an attendee for a seminar.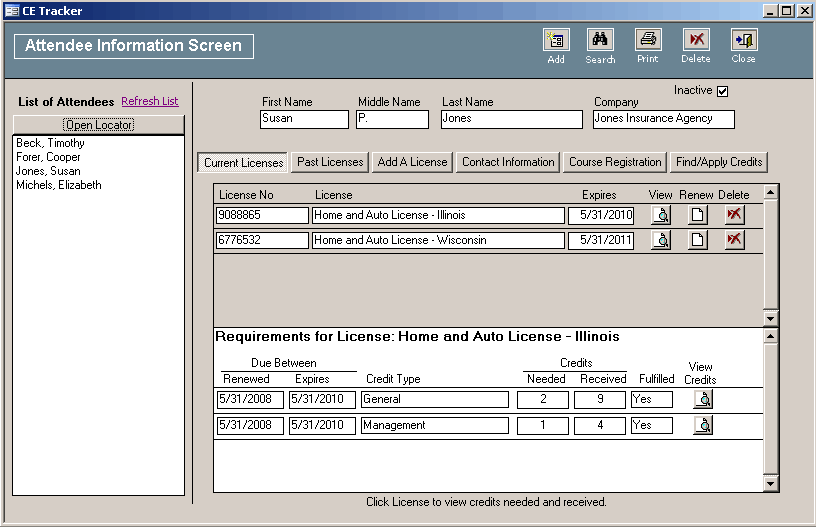 Slide 10 of 26
The well organized attendee screen is packed with functionality and information. Easily view and manage licensing information, contact information, seminar attendendance, credits received and needed, and more.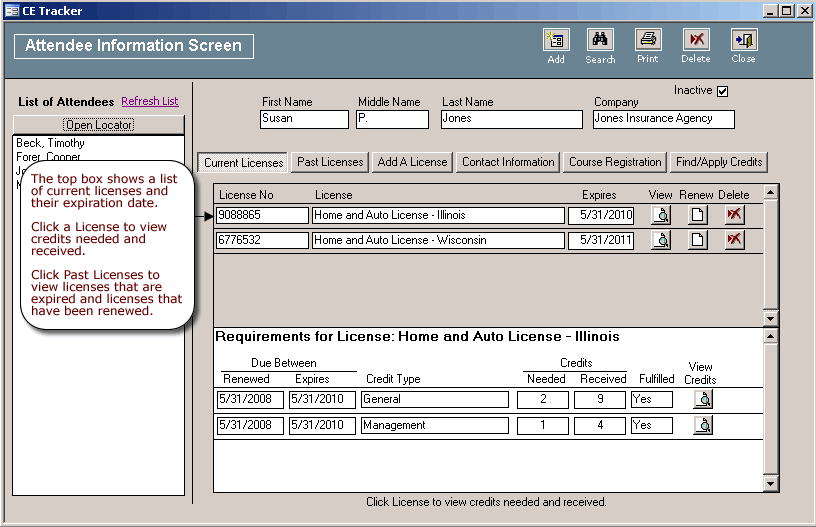 Slide 11 of 26
In the Requirements For License box, the View Credits button will show details about how the credits were earned.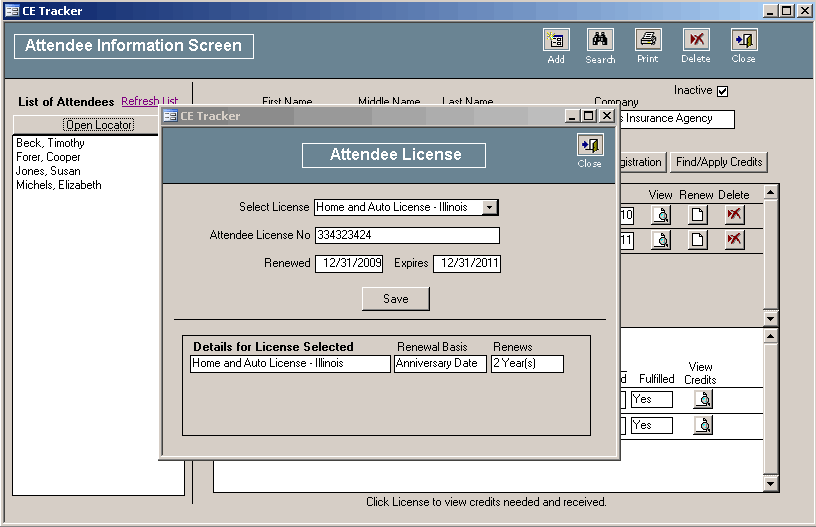 Slide 12 of 26
When you select Add, View or Renew to manage attendee licenses. A popup screen will assist you in adding, viewing or renewing a license. Enter a date renewed and CET will automatically calculate the expiration date based on the license criteria set.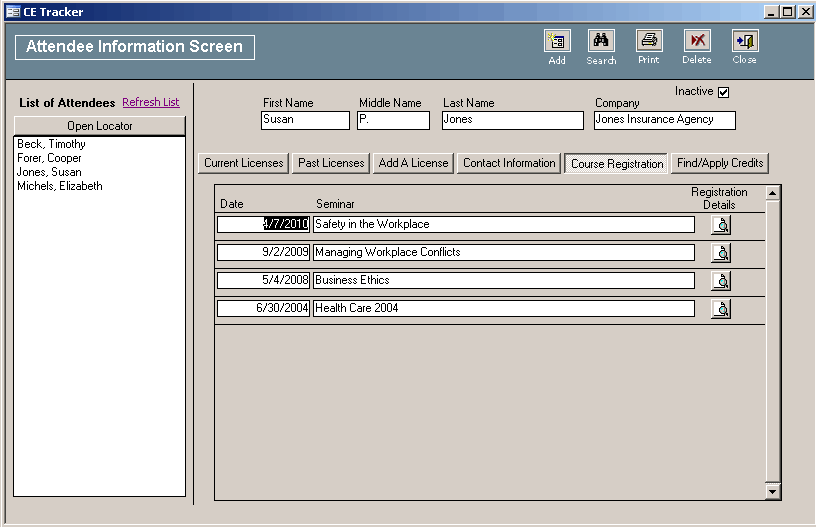 Slide 13 of 26
View a list of seminars attended. The Registration Details button is available to easily view and manage information about the seminar attendance.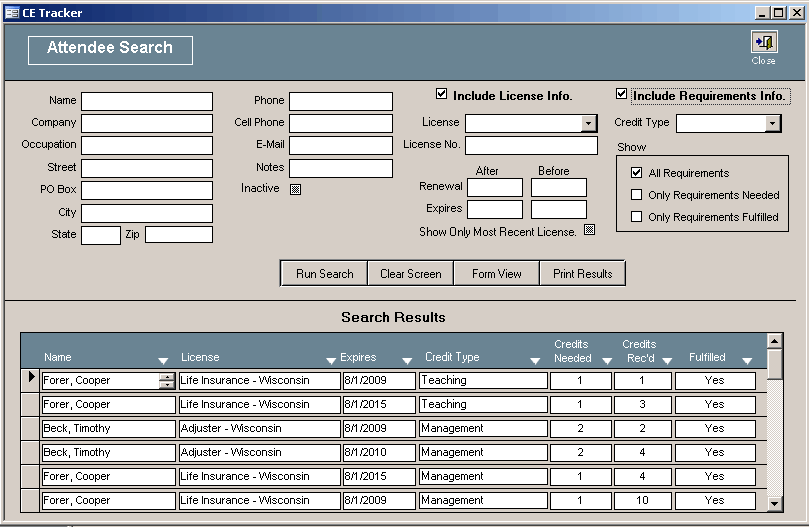 Slide 14 of 26
The Attendee Search screen gives you great flexibility in formulating your search criteria. With a few clicks, view a list of attendees who have not fulfilled their license renewal requirements, or those who have fulfilled their requirements and are ready to renew. Sort, view and print your search results.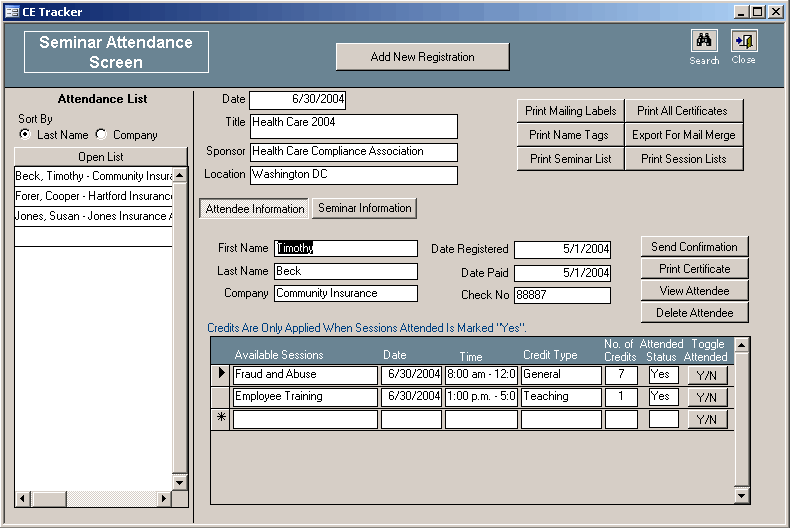 Slide 15 of 26
You can register an attendee for a seminar from the Attendee Menu. The registration screen allows you to select which sessions were attended, print certificates, print mailing labels, send email notifications and much more.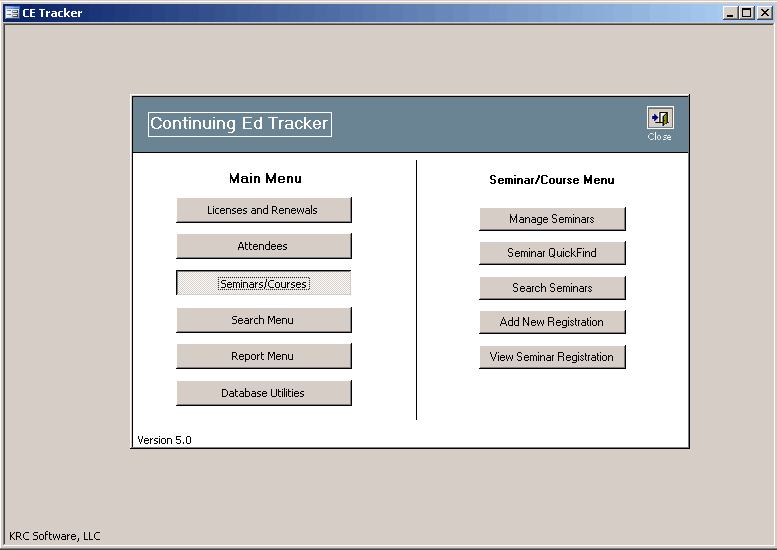 Slide 16 of 26
The Seminar Menu allows you to manage seminar and seminar registration information.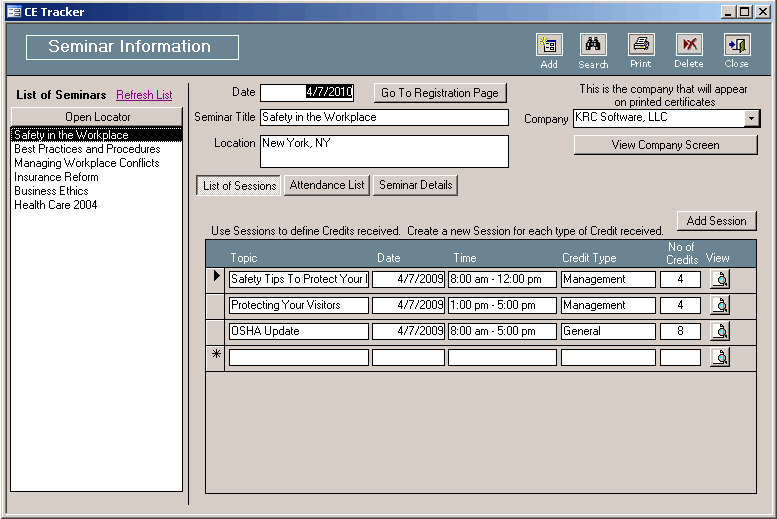 Slide 17 of 26
Select a seminar from the list on the left to view details. The List of Sessions shows a breakdown of the course offered and the credits that can be received.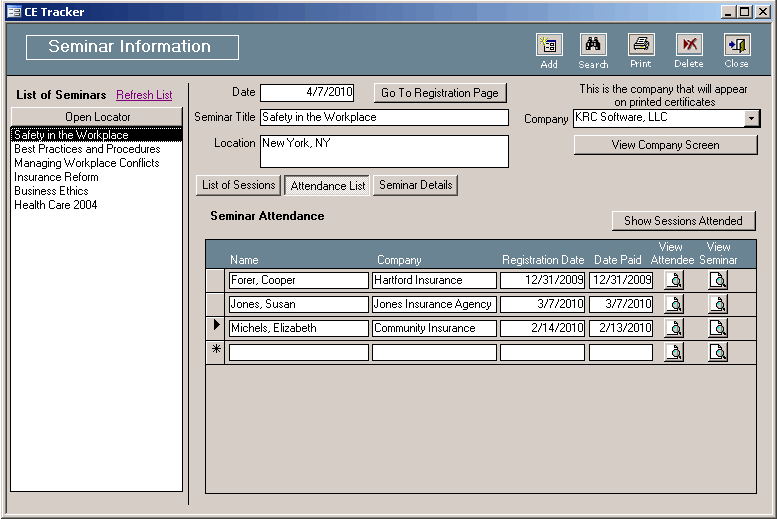 Slide 18 of 26
The Attendance List button will show a list of attendees.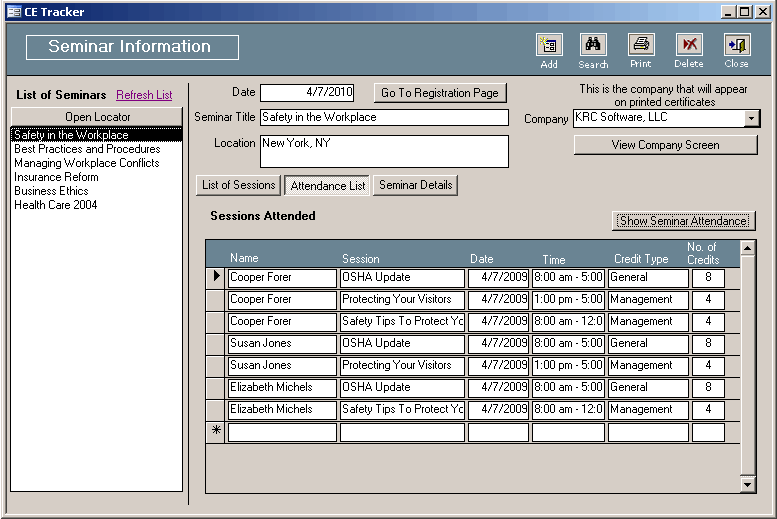 Slide 19 of 26
The Show Sessions Attended/Show Seminar Attendance buttons toggle attendance details.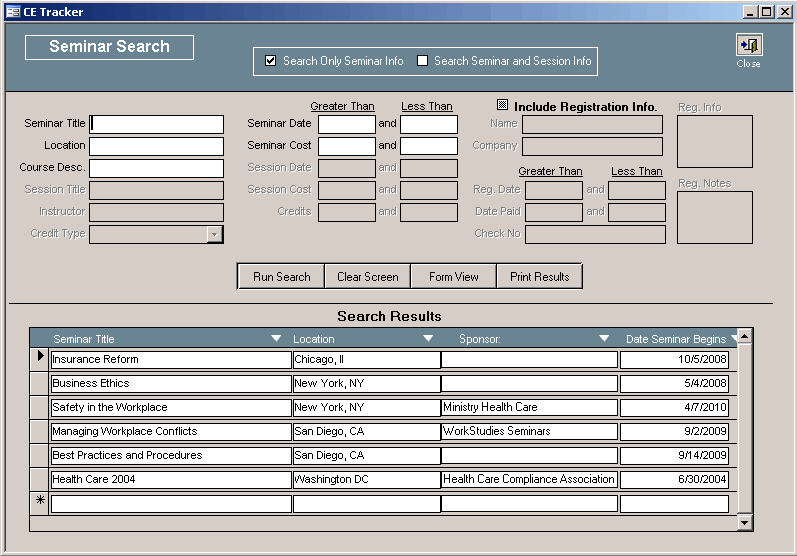 Slide 20 of 26
The seminar search screen offers great flexibility in searching seminar and seminar registration information. From this screen you can sort, view and print your search results.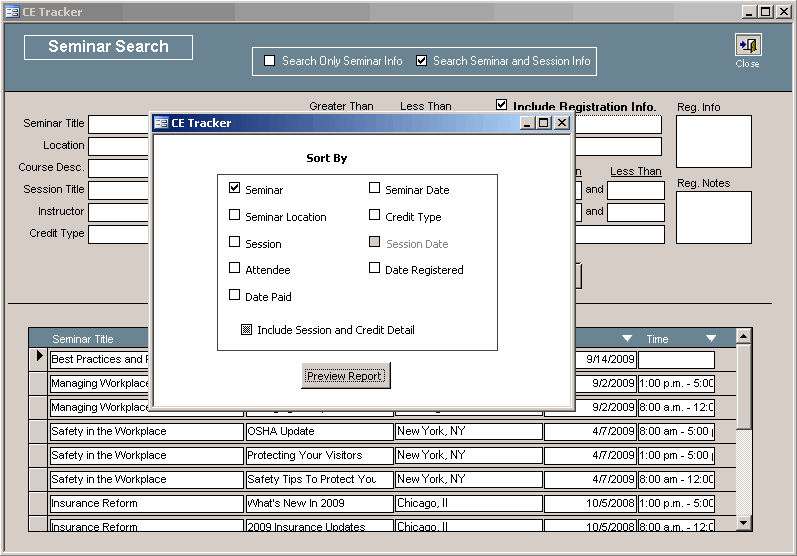 Slide 21 of 26
Click Print Results from the search screen to select the type of report you would like to print. Each search screen in CET offers several print options giving you great reporting flexibility.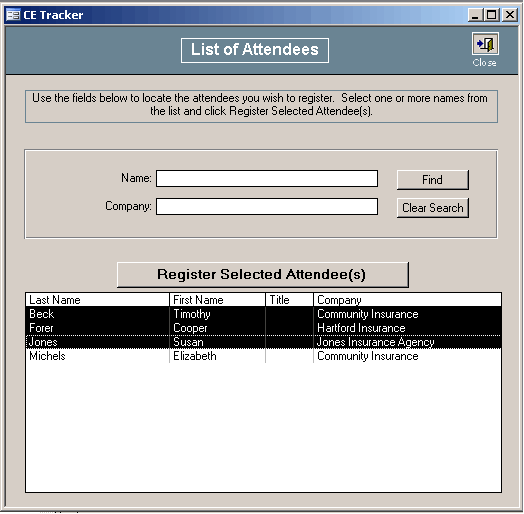 Slide 22 of 26
From the Attendee or Seminar menus, click Add New Registration to register attendees for a seminar. From the popup screen, simply select all of the attendees you wish to register and click Register Selected Attendees.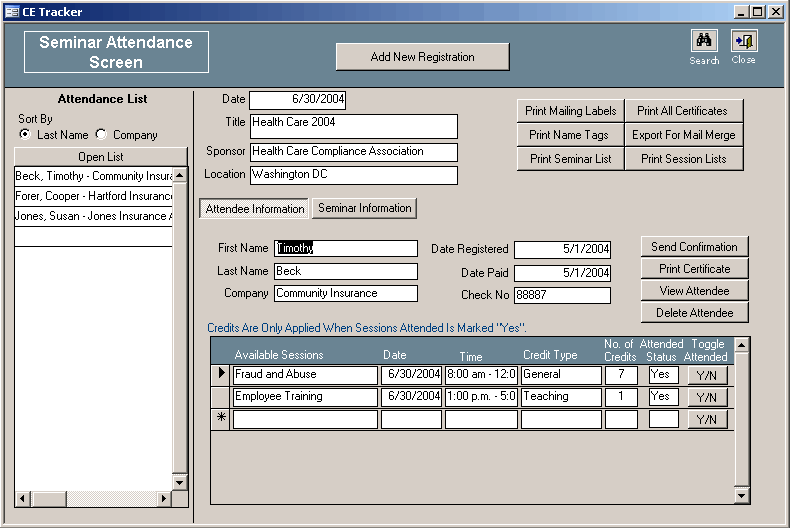 Slide 23 of 26
From the Seminar Attendance screen, enter the date registered and payment information. Credits are automatically applied to Attendee record for all Sessions attended. From the Seminar Attendance screen, you can send email confirmations, print certificates, and more.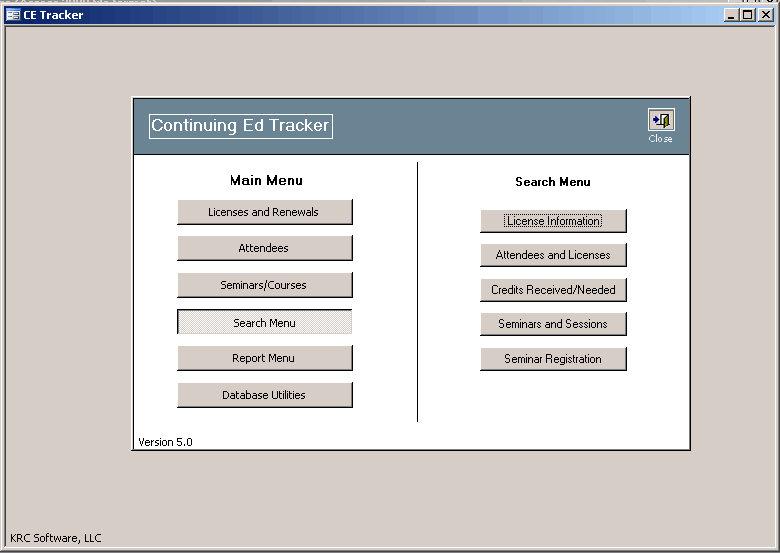 Slide 24 of 26
The Search Menu offers access to the search screens to help you find the information you need. Each search screen gives you access to hundreds of reports pre-defined in CET.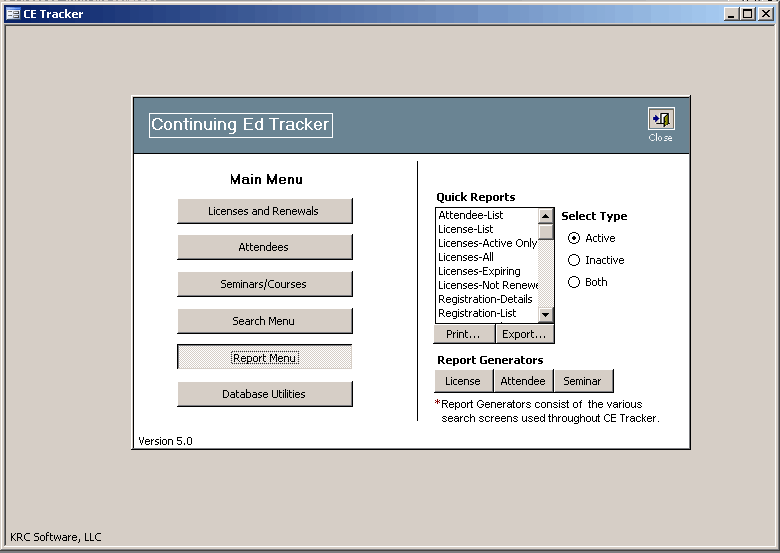 Slide 25 of 26
Quick Reports have been loaded into CET for fast and easy access to the information most often requested. Report Generator links provide access to search screens with more advanced reports.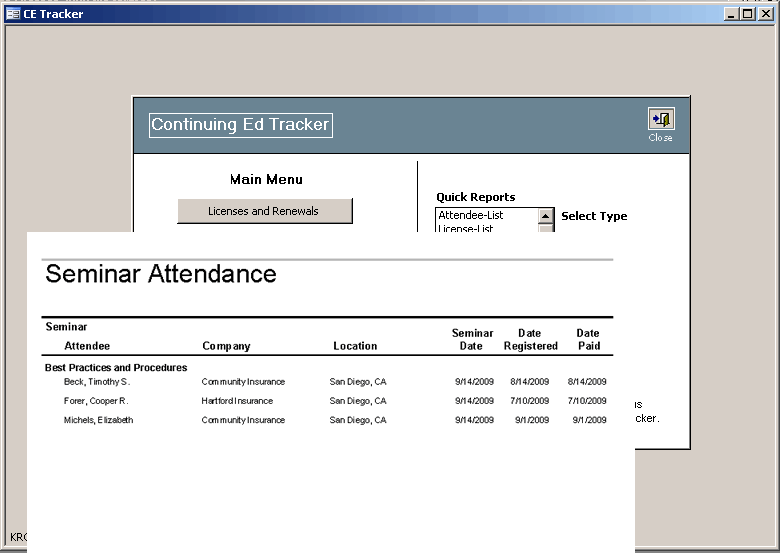 Slide 26 of 26
Select a Quick Report from the list to view and print your report instantly.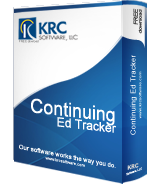 Sign Up Today - It's FREE.
See for yourself what Continuing Ed Tracker can do for you.
Choose from the popular cloud-based application or the desktop software.

No payment information is required until you decide to buy.